Auto Repair Industry Case Study
How A Local Auto Repair Shop Gained Traction
Today, thanks to teamwork and a smart marketing plan, Legends Luxury Auto Repair receives on average 60 new phone calls a month from online.  Considering that over half of these convert into scheduled maintenance and repair appointments, Legends is experiencing growth and increasing revenue year over year.
Read on to learn how Inspir3d Marketing and the Smith family were able to achieve this goal by earning their local auto repair shop a consistent spot in Google's local 3-pack, and at the top of the orgainc search results beating out even the big brand names and dealerships.
A Local Family-Owned Auto Repair Shop's Path to Success
Legends Luxury Auto Repair
Legends Luxury Auto Repair is a family-owned, local auto repair shop in Tempe, Arizona. Danny, the owner and lead mechanic, opened Legends in 2013 with his wife and kids, fulfilling a lifelong dream of opening his own mechanic shop after working for a Cadillac dealership for 24 years. Thanks to Danny's expertise and great reputation, their auto repair shop was surviving, but Danny and his family knew that if they were going to grow and succeed in this competitive industry, they were going to need to come up with a dependable and consistent means of attracting new customers. In this day and age, that would mean being highly visible (and approachable) online especially in their city and surrounding areas .
Legends had a website and a Google My Business page with great reviews, but that alone wasn't going to be enough due to the high number of competing shops in his area. This was a competitive niche with over 50 other auto repair shops (just in their city!), and to add to the challenge, many of those auto mechanic shops had been investing in SEO for years.
In the following case study, we outline how together with the Smith family, we were able to get Legends Luxury Auto Repair that prime spot in Google's Local 3-Pack bringing in a reliable flow of new leads… even through Covid.
Keyword & Competitor Research
As with all new clients, we begin with a comprehensive keyword and competitor analysis. We are looking for what are the most valuable search terms for your business in regard to revenue (search terms that lead to a purchase of a product or service), and how many other local businesses you are competing with to rank for these key terms.  Additionally, and arguably more important, what are some search terms that are being overlooked by the competitors that we may be able to target and capitalize on?
This was where we found our break.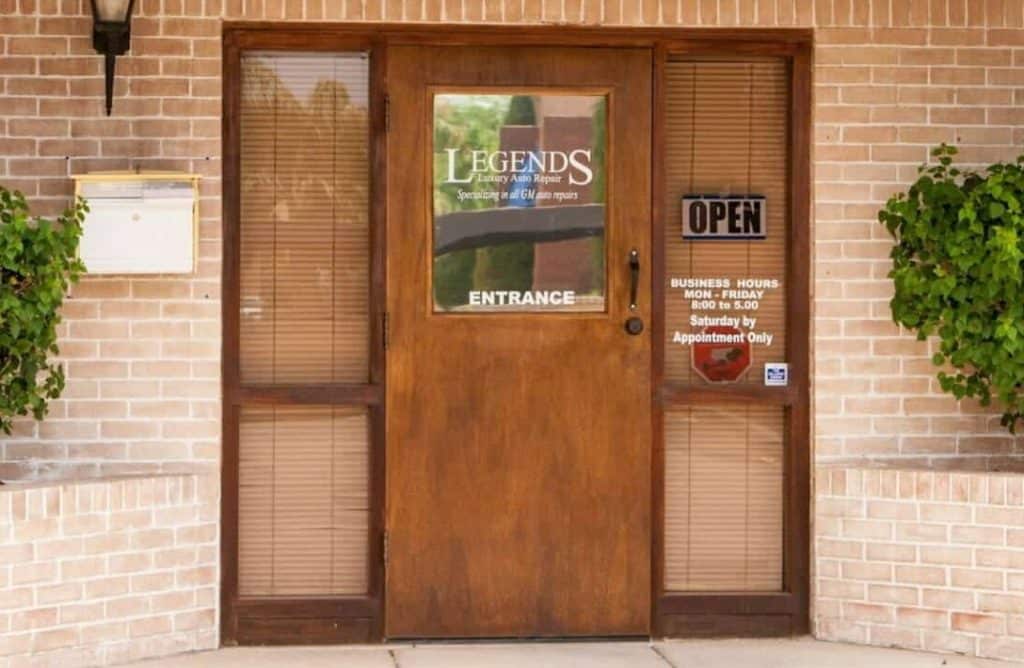 We were able to figure out quickly that one of Danny's UVPs (unique value propositions) was his extensive experience and education with Cadillac automobiles. With over 24 years' experience as a lead mechanic at a huge Cadillac dealership, Danny knew these cars better than practically anyone. Just by word-of-mouth, people from across the US would ship their Caddis to have Danny work on them – especially the XLR and XLR V models. These are highly sought after but complex to work on.
After going deeper, we recognized a trend of Corvette repairs too! Danny had many Corvette owners who, like his Cadillac clientele, wouldn't trust their Vette with any other mechanic.
Perfect. We now had a niche to target.  
A Strategy Begins to Emerge
Based on our findings, we knew we had a great opportunity with Cadillac and Corvette owners. From a business standpoint this was great. You always need to consider profit and margins when creating a plan because why put time and effort into something with little to no return? No. That's a waste and you end up celebrating vanity metrics like increase in website visitors, and maybe even leads, but with no increase in revenue. More work but not more money.
We see too many companies and even digital marketing agencies fall for this and end up with nothing to show in the end result. We don't do that and will help you identify if you unknowlingly are.
Are you pursuing the right customers for your business?
Cadillac & Corvette Repair Near Me
Hard work and smart decisions paid off. If you ever visit Legends Luxury Auto Repair these days expect to see a shop full of Cadillacs and Corvettes!
I visit about once a month and the sight never gets old. To be clear, we did our part but the Smith family has exceptional customer service and as mentioned earlier, Danny is one of the best Cadillac and Corvette mechanics out there, so it always comes down to teamwork. We just happen to help come up with a winning marketing strategy so YOU can help more people with your service or product.
Legends Luxury Auto Repair has a great team, is great to work with, and we have even bigger plans for the future.
At the end of the day, it's results that matter.
Legends has consistently increased their Revenue since Q2 of 2017 up until the "COVID-19 time period", but they came through this time unscathed as well.
The capability to weather through storms like COVID-19 matters for any small business and we think is a significant metric to gauging success.
The main metrics and KPIs we use to gauge success are of course phone calls, website forms, and keyword rankings. A KPI, or Key Performance Indicator, is a measurable value that shows progress to reaching a business goal.
There are many different types of KPIs, but for most all of our local clients it's
Phone calls
Website submission forms
Keyword rankings
Let's go over these in more detail below.
As determined before, the main keywords we went after for Legends was "corvette repair" and "cadillac repair", and a few variations of those.
Below is a sneak peek at Legends Luxury Auto Repair's keyword ranking report and their mobile search results for Cadillac and Corvette repairs in Tempe (January 2021).
Legends has a few different website forms set up including a "Request a Call Back", "Schedule an Appointment", and two "Request a Free Repair Estimate" forms. Of these, the Request a Free Repair Estimate forms are the most popular and generate approximately 20 submissions a month. They have about the same conversion rates as the incoming phone calls which in our best estimates comes to 70 to 80 percent conservatively.
Legends Luxury Auto Repair averages 40 to 50 calls a month via their GMB listing and 10 to 20 from the website. 
Website Speed & Technical Considerations
Website speed and performance are important factors for SEO and user experience. Every website we design is built with this in mind and Legends was no exception. Even if we didn't build the website, we will address speed and perfomance issues in the beginning because Google has made it abundantly clear that this will affect your visibility on their search engine. 
If you have an auto repair shop, or any local business for that matter, and would like some tips to help your business specifically, hit me up! I won't charge for that. I love what I do and it's not always about the money.
(Just click the Contact Inspir3d button below, or text me at (480) 799-7045.)
Is Your Auto Repair Business Getting Consistent Leads?
Local SEO and marketing services for auto repair businesses.
Let us help you earn that spot in Google's 3-Pack for your most valuable search terms -- auto repair near me, mechanic near me, auto ac repair, auto tune up, oil changes, fleet vehicle service, and many other auto repair and service related search queries.
Let's talk! We'd love to help.