A Hybrid Local SEO Case Study
A Hybrid Approach to Marketing for Local Businesses
Local Business Marketing Results in One Month.
In this case study, we share how with Hybrid Local SEO, this local business was able to see profits and ROI in the first month, and in month 2 have the highest revenue producing month since starting the business.
Old Town Scottsdale Towing is a local tow truck company in Scottsdale, Arizona, owned and operated by Harrison Stone. Harrison reached out to us to learn more about our website design and marketing services after being referred by another client of ours in his industry.
Harrison had a clear set of goals. One of which was to break his monthly revenue record,  and the other was to build a solid brand online that would continue succeeding well into the future. 
Read on to learn how we were able to help Harrison exceed his revenue goals, and establish his company as the most visible tow truck company in the organic Google and other search engine's organic results.
Competitive Industry & City
Competition is a given. It is the most common challenge with any small business! But in reality, competition is a positive force. It drives value and quality. 
Scottsdale is known for high quality and class. The average household income in Scottsdale is $132,835 and the median house value is $475,300. There are many multi-million-dollar homes and Scottsdale and Paradise Valley is home to many professional athletes, musicians and celebrities.
The wealth and prestige of Scottsdale makes it a desirable place for businesses to do business.
That's the beauty of Hybrid SEO and Hybrid Local SEO. Competition is no longer as big of a factor.
By combining and connecting selected marketing channels and following a strategic process, results can be achieved almost instaneously. And the best part? Your business recieves leads and sales in the first month instead of having to wait months for organic SEO efforts to take effect. 
The screenshot above was taken 3 weeks into the campaign. 
Thanks to a hybrid approach, Old Town Scottsdale Towing now ranks for dozens of new keywords and subsequently has increased his Maps views by 102.8%, Search views by 52.9%, and phone calls by 19.4%.
Competitors Have Keyword & City in GMB Name
As advanced as Google's algorithm has become over the years, it's strange, and even frustrating, on how significant preference is given to businesses with GMB listings that have the keyword and city in their name. 
Joy Hawkins, a famous local SEO speaker who is very respected in this industry, wrote a pretty extensive article on this phenomenom backed up with a case study.
At Inspired Marketing & Design we run and track various experiments, and are seeing advancements in this area, however, if you are a new business or getting ready to start one, it wouldn't be a bad idea to consider having your main keyword and city in your business name. Of course this will make more sense for some businesses than others, but something to consider.
This is a perfect example of a Hybrid SEO solution. Even with the bias nature of GMB results in this regard, we were able to get Harrison's business at the top of the Maps results overnight. Not weeks or months. The very next day his GMB page was at the top of the maps search results in the numerous areas we specifically chose!
Now, staying true to the definition of Hybrid Local SEO, and considering his organic presence as well, we had to decide if it was worth going through the steps to make this name change LEGALLY. You must do this legally or you will be penalized by Google for going against their guidelines! It did make sense, we have a great accountant and business development specialists, so the process was easy and now he is officially Old Town Scottsdale Towing. 
Limited Website Functionality & SEO Control
First let me clarify something before I go on, and that is yes, a website build with GoDaddy's website builder can be SEO'd and ranked. We've had clients with both GoDaddy and Wix websites and were able to do quite well for them.
In this case, especially considering some of the functionality we wanted to add (and the inevitable challenges of optimizing the site speed to pass Google's core web vitals!), the choice was made to go with a new website built on WordPress.
As Hybrid Local SEO evolves, so does the definition. The question is, "Does a new website or redesign count as 'Hybrid SEO'"?
Well, it is a "utilize all resources" solution to a specific problem that will help achieve the results for the business in a shorter amount of time. Plus, the new website is a much better asset to promote via PPC and other hybrid channels, so I say yes, it is a hybird solution. Not too mention, there are some "hybrid" components on the website like the "click-to-video-chat" option.
Website Speed & Core Web Vitals
As is with every website we build, user experience and speed are a main priority. Google is very clear on the subject. The amount of time it takes your website to load and the responsiveness of interactive elements all affect user experience. Google rewards websites with fast load times and great user experience with higher rankings, so we believe website speed and user experience should always be a core deliverable in any SEO campaign. 
Poor Mobile Experience & Conversion Rates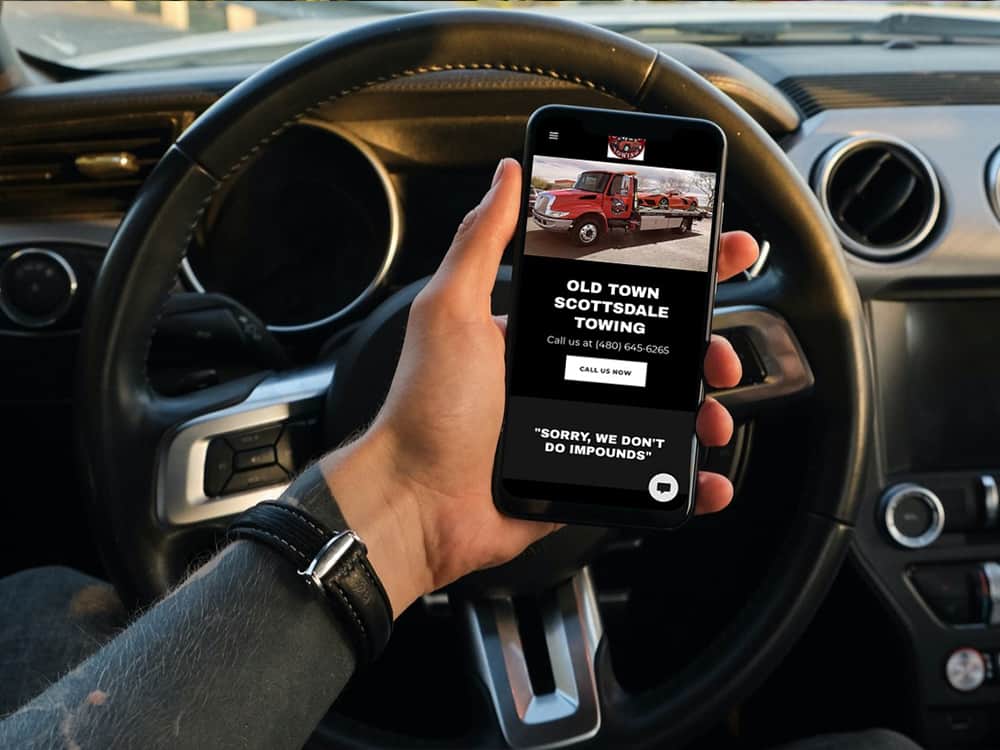 The mobile experience on Harrison's current website wasn't horrible, but since the user's experience on their cell phone was such a high impacting conversion factor (90% of website traffic on oldtowntowing.com is from mobile!), we wanted to get this one right. This was actually another strong reason for rebuilding the website, so we approached this build from a "mobile first" perspective.
of smartphone owner turn to search first to address their immediate needs.
delay in mobile load times can impact mobile conversions by up to 20%.
of mobile searches are related to location.
This is another great example of being hybrid-solution-minded and overcoming challenges with this mindset. There are actually two examples of Hybrid SEO here, but one of them we are waiting to spotlight in month 2 with data (Month 2 will be added to this case study as we journal this one month by month).
The example we want to highlight this month is two part. The first part was coming up with a better way for Harrison to communicate with the customer, help them in a stressful situation, and get the information he needed to best serve them.
Video.
The second part of that was being able to implement the solution without negatively affecting any other elements. This is where it can sometimes get tricky.
Take for instance adding video conversation functionality to the website like we wanted to do in this case. Usually this would be done via a chat bot or other solution, but that would add weight to the website and in the case of chatbots, another resource that had to be loaded (not that we're against chatbots).
The solution? A link that opens up the video conversation off site providing a quality video chat experience while still be able to deliver 1.1 second load times.
This is listed as a challenge, but really this could be looked at as an opportunity. Google's "Google My Business Page', or GMB page for short, is a very powerful online business profile for companies, particularly ones with a local customer base. 
A correctly setup and optimized GMB page is vital to the success of a local business. This is the map listing at the top of Google's local search results and many times is the only result the searcher is looking for.
Optimizing and correctly setting up your GMB page is an essential consideration for organic and ppc campaigns.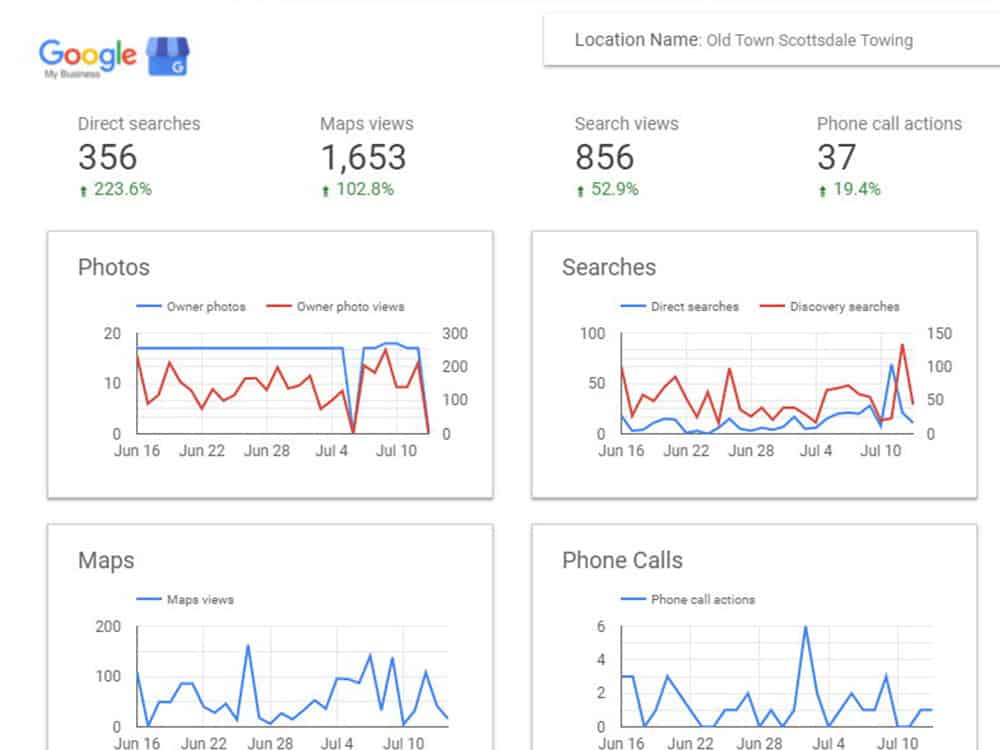 A business's GMB page presents some interesting hybrid solutions.
On the organic side, ensuring the business is taking advantage of all the functionality opportunities a GMB page provides, will increase rankings and visibility in the organic local search results.  
On the paid promotion side, one can set up Google Maps ads to drive traffic and engagement to the GMB page. You're not limited to just Google ads either. There are some great paid social campaign strategies that can be implemented as well. Even YouTube.
The Hybrid Local SEO approach is to utilize the organic, paid, ands social media channels concurrently. Optimize the GMB page fully, run targeted Maps ads to it, and promote it on social media and other channels like you would a website.
By doing this and a few other little things, we were able to increase Harrison's Maps views, Search views, and Phone call actions quickly and efficiently. 
It's no surprise when clients start with us they have a somewhat limited online presence. After all, that's one of the reasons you hire a digital marketing company. 
Having a robust online presence not only sends strong signals to Google that you're a trusted and established company, but exhibits trust to your audience and community as well.
People like to see company's that are proactive with their business image. It shows that you care and will care about the service or product you provide as well.
Today when you Google search, "old town scottsdale towing" the search result page is robust. There are many new pretty profiles and featured images of Old Town Scottsdale Towing. 
Old Town Scottsdale Towing now has a brand online. 
Also, it's a hybrid result, so there are ads, organic, directories, and social media. It's important because it portrays professionalism and trust to Google and potential customers. As mentiond earlier, it shows you care.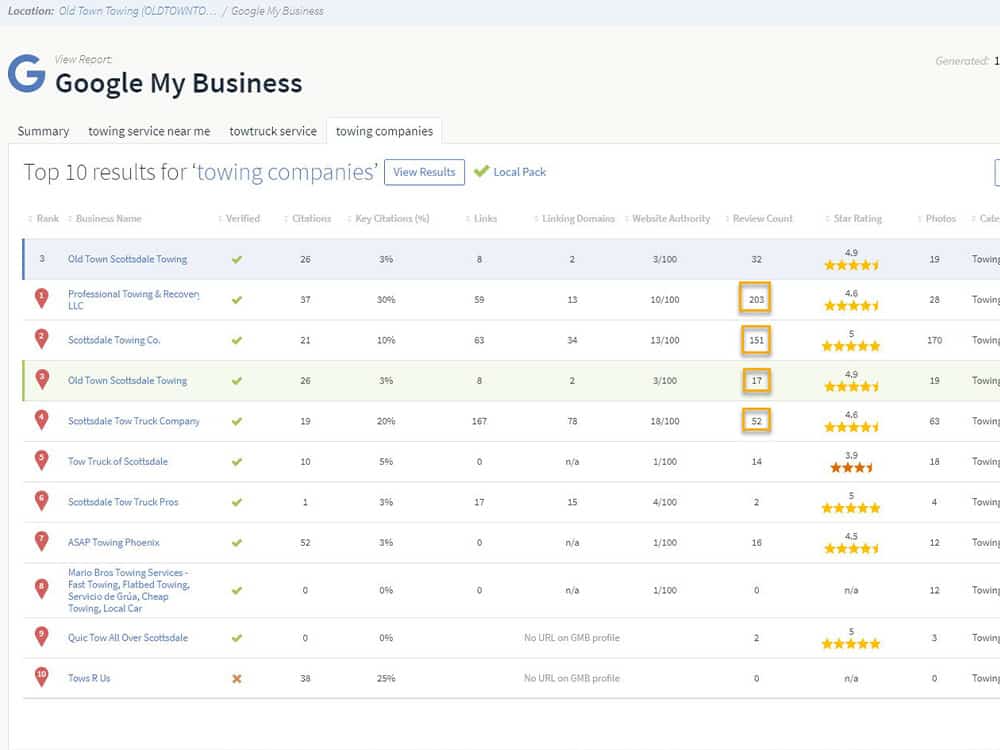 One of the highest SEO impacting factors for a business these days, both in terms of search visibility and conversion, is reviews. Online reviews have a direct impact on rankings and turning a lead turning into a customer, otherwise known as "conversion".
of consumers read online reviews for local businesses in 2020 - up from 81% in 2019.
of consumers only pay attention to reviews written in the last month.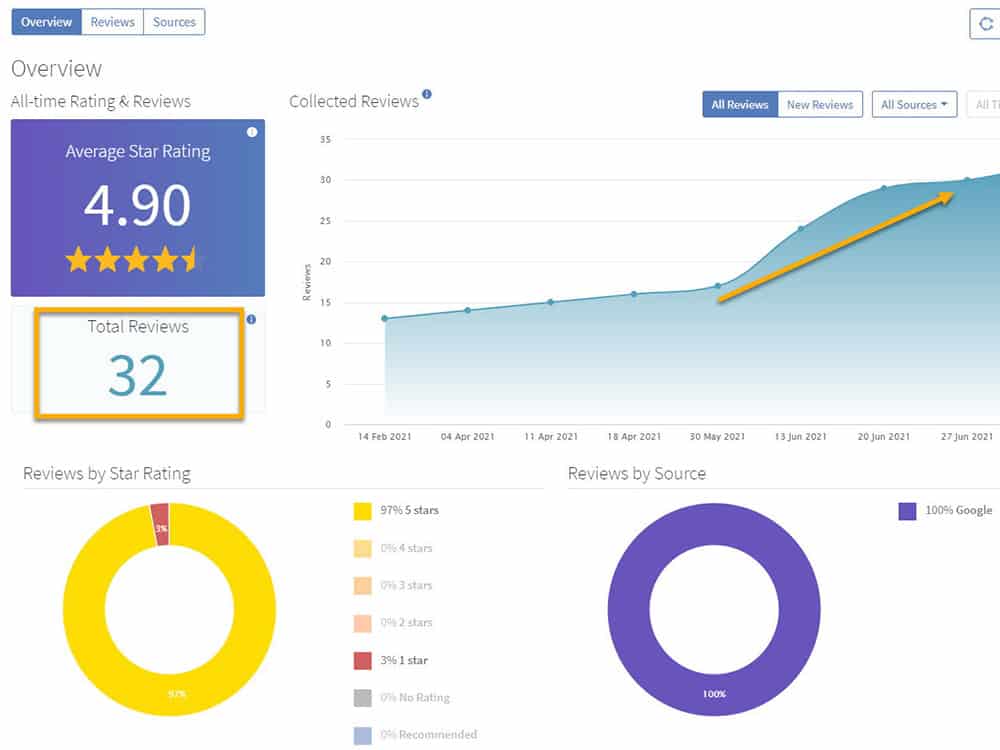 I think it was the first day, maybe the second, that we had Harrison's review system in place. In month one, Old Town Scottsdale Towing went from 17 to 32 reviews. 
The best time to get a review from a customer is right after they recieve your service and are happy with the outcome. Harrison is very accomadating to his customers and always goes the extra mile so getting more five-star reviews came pretty easily once he began asking for them right after a tow. Also, being able to provide the customer with a text link that immediately opened up his Google review box ready to go helped as well by making it as fast and convenient as possible.
There were a few actions taken in month one that led to his prompt organic appearance in the map pack, but the increase in reviews and review responses were definitely one of the influencing factors.
of consumers expect to see a response to their review within one day.
Te results speak for themselves as they say. We hope you enjoyed this case study so far and that you will continue to follow it in months to come. 
If you want to be notified the second we update this case study, just drop us your email and you will be notified when month two updates and results.
Month 1 Graphic Design & Image Assets
Branding, Website, & Social Media Graphics & Thoughts
Design is always at the forefront of what we do. It's in our name. Good design inspires people! Harrison really likes his new cartoon truck based on his real life one, and is considering selling "merch" on the website. Let's go!
Below are various graphics and drafts we put together in preparation for the new website, social media, and possibly selling Old Town Scottsdale Towing branded merchandise on the website.
Hybrid Local SEO Case Study
That was a great phone call. In fact, not the first one of its kind. What a great feeling it is to have a process that we are so confident in that having the "are you staffed and ready for the influx in business you are about ready to receive?" conversation needs to be part of the process.
In all seriousness, that is a step of our process now. Most businesses aren't prepared for an influx in business like that, and believe it or not, that can present a problem!
My favorite call with Harrison though (it was actually Mike that had this call with him) was when he called us to share that he had just picked up digital marketing professional on his way to work that told Harrison to give props to his marketing team. He said, "You were everywhere on the Google search result. I had no choice but to choose you!"
That was my favorite call.
Google My Business Stats Month 1 Compared to Month 2
Google My Business Stats Last 2 Months VS Prior 2 Months
Google Ads Stats Last 3 Months
GOOGLE Search Console SEO Report Month 1 Compared to Month 2
Google Analytics Data Studio Report Month 1 Compared to Month 2

SEO Powersuite Keyword Report Month 1 Compared to Month 2